I thought I would relate a story told to me by my wife about a school journey she went on when 16.
My wife went to a very strict school where corporal punishment was common place.
The school was a girl's school which had male and female teachers. It was during the time of "Spare the rod and spoil the c***d" and even at home, my wife's f****y practiced corporal punishment, so this is perhaps why she tolerates it so well at home now.
Punishment in school usual began with lines, then a detention and if that failed, a private spanking, usually at break time in an empty office or a classroom. Occasionally a spanking or a slippering was administered in front of the class, especially if there were more than one offender present.
The most extreme punishment was administered by the Head or deputy head and could be done in front of the whole school in assembly or a private flogging where one of the c***d's parents were asked to be present.
These two latter punishments were only carried out in extreme cases. In both of these punishments, a cane was used and sometimes a hairbrush or slipper, depending on the offence.
If a normal punishment, In front of the class, the offenders skirt could be pulled up, but she would have the modesty of her knickers to hide her private parts. If in private, the punishment was usually administered to the bare bottom or over skirt or knickers.
My wife can remember many punishments she had at school. Over the knee or bent over in private by both male and female teachers, usually about six hard slaps over her skirt, panties or on her bare bottom. The male teachers seemed to enjoy the bare bottom spankings best! Offenses could range from talking in class, lateness and inappropriate attire and many more misdemeanours, minor and more serious warranted corporal punishment.
Once a male teacher kept her back at lunchtime and made her bend over the desk. He pulled her knickers up the crack of her bum, what you would call a wedgie these days and lifted her skirt up for 10 hard slaps across her bottom. She must have been about 15 at this time. Some of the teachers must have got a lot of pleasure out of this in retrospect.
My wife only witnessed one public flogging in front of the whole school in assembly. A particularly rebellious girl called Karen Cooper, (who was 14 at the time), was the victim. She had stabbed another girl with a compass point and spat in the face of a teacher. Her parents were all for the punishment to teach her a lesson. On the day of the punishment, the headmaster gave a speech about her behaviour and called her out to the front of the packed hall. Karen walked up onto the stage and was wearing a white polo top, regulation blue pleated skirt, flat shoes, blue knee socks and regulation blue cotton knickers.
She was told to bend across the desk that had been placed in the centre of the stage, with her bottom facing the assembly. A female teacher stood on the other side of the desk and held her hands, in case she tried to break free. The teacher was a female P.E teacher, so was more than capable of holding a belligerent 14 year old in place. The headmaster stood in shirt sleeves, his right hand holding a long thin cane. His shirt sleeve was rolled up on this arm to allow him to move his arm swiftly and unhindered. He walked up to where Karen was and raised the hem of her blue pleated skirt and placed it onto the small of her back, revealing her chubby blue knicker clad bottom. An audible gasp went up from the assembled at this point. Standing to Karen's left, the headmaster raised the cane high in the air. He placed it slowly across the middle of Karen's bottom to get his aim.
My wife described what followed thus;
Again he raised it and this time, "Swooosh" the cane whistled through the air and cut hard into Karen's bottom..."thwaaack" It was a painful sound as it was not a tap, but a full bl**died cut which must have really hurt and would surely leave its mark long after the punishment was over. "Swish...Plaaaaack" again the cane came down in a measured fashion. Karen would jerk at each stroke, but the lady P.E teacher held her firm. 5 hard cuts followed and all of a sudden, you could hear a snivelling emanating from Karen. Not a full blown cry, but a sobbing. My wife was near the front and she said she could see the welts rising under Karen's knickers and across the side of her exposed bottom cheeks and legs. Finally after 10 very hard whacks, the headmaster rolled down his sleeve and told Karen to return to the seat she occupied pre punishment just to the right of the stage.
Karen made her way back to her seat clutching her bottom and sobbing. This was one of the many incidents that could happen to anyone who misbehaved at school back in the day. My wife was many of the girls who queued up and managed to observe the work of the cane and the marks that were left by this punishment. Karen's bottom was full of vicious looking welts where the cane had struck her bottom. A thin pair of knickers of course did not offer very much protection. Quite traumatic for a girl of 14 I expect.
The story that my wife recalled was that on a school trip to Swanage one year, the pupils and teachers all had to stay in tents. The teachers had their own tents of course. There were lots of outside activities in the day and at night a strict curfew was imposed.
My wife and her friends were about 16 at the time and used to sneak out after lights out to visit the local pub. They usually would get discovered and thrown out, but one night in question, my wife met a very nice boy from another school who was also on a trip to the area. They managed to get a few bottles of beer and were sitting talking, when a teacher from the boy's school spotted them. He grabbed the boy by the ear and marched him to his car. The teacher told my wife to follow him. When they got to the car, the teacher questioned them both as to what they thought they were doing at this time of night and also smelt drink on their breath. He drove the boy and my wife back to my wife's school campsite and spoke to the senior teacher there, a lady called Mrs Seaton.
The boy's teacher, a Mr Evans, was very angry at the fact they were both breaking curfew in town and had been drinking. He said he would be punishing the boy and wanted Mrs Seaton to guarantee that my wife would also be punished. Mrs Seaton agreed and said that she would be prepared to carry out the punishment now if need be? Mr Evans agreed and stated that in his school, the boys would usually be caned on their bare bottom for such an offence. Mrs Seaton said she did not have a cane and Mr Evans said that would not be a problem, as he would retrieve a suitable stick from the woods across the road that would do the trick.
On the site was a single log cabin, used for activity when it rained to hard. It had electricity and as it was now 10.00 at night, it was empty. The 4 of them made their way to the log cabin and entered. Mr Evans had in his possession a lethal looking stick which he had trimmed out nicely with his penknife on the way across. Right he said to the boy. Stand by that table!
The boy did as requested and the master pulled the boys grey flannel trousers down and then his underpants, leaving his naked bottom facing my wife and Mrs Seaton. He pushed the boy over the table and proceeded to whip his bottom with great vigour. The boy cried out but the master did not slow down and increased the power and number of the strokes. "thwiiick..thwaaaack..." bits of stick were flying everywhere. The master did not stop whipping the poor boys bottom until it was completely filled with thin red welts one on top of the other and some with traces of bl**d showing.
Finally the master stopped. The boy, now sobbing, pulled up his underpants and trousers and holding his bottom and sobbing, stood in front of my wife and Mrs Seaton "Well" Mr Evans said "Let's see you fulfil your side of the bargain". To my wife's horror, Mrs Seaton led my wife by the hand and bent her across the table. My wife was in her out of school clothes and was wearing a white blouse, a thin red silk skirt and skimpy white cotton underwear. At 16 of course, she felt like she was too old for this sort of thing.
Mrs Seaton removed my wife's skirt to reveal her ample bottom cheeks, straining against her pretty white panties. Mr Evans and the boy could both see what was on show. Suddenly, Mrs Seaton tugged down my wife's tight lace knickers over her bottom and down so they landed in a heap on top of her shoes. My wife's rear end was on show for all to see. My wife was conscious that they could now also see her pussy nestling at the top of her legs. How embarrassing!
Suddenly and slowly at first, Mrs Seaton began to spank my wife's bottom. The slaps got harder and faster as they went on. 1,2...5...7...10...12, my god my wife thought, how many more!. The adrenaline was flowing and of course this helped with the pain, making her feel numb and just embarrassed that her chubby teenage bottom was giggling up and down in front of these two males. "Slaaaap, Smaaaack, spaaaat" more and more blows rained down on her bare bottom, until finally, they stopped.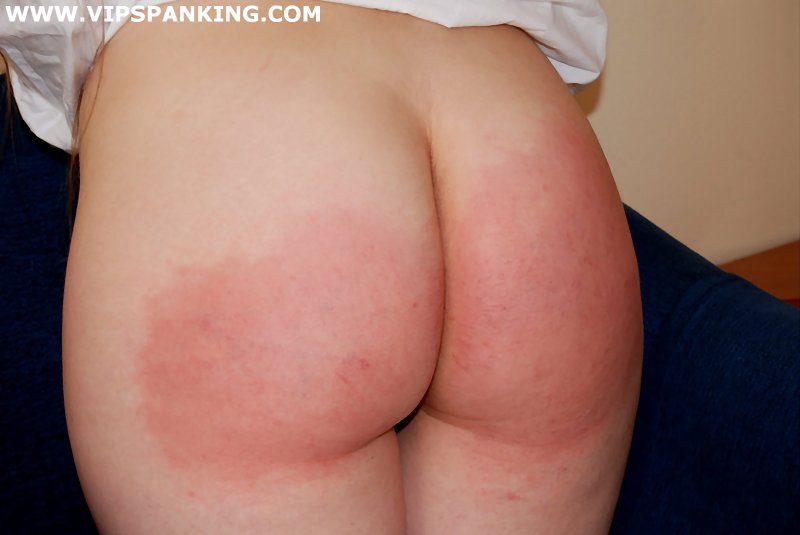 She had lost count of how many smacks she got,maybe 40, maybe 50 maybe more? Her bottom was throbbing and felt very hot and sore now. She pulled up her knickers and slowly walked back to her tent. Her fellow pupils wanted to know all the gory details of what had happened and an orderly queue had formed to observe the damage done to her poor bottom!