OPEN LETTER TO THE STAFF OF XHAMSTER AND
SOME STUPID GOLMEMBERS
WHO THINK EVERY CAM MODEL IS A TOKEN WHORE
AND NOT TO FORGET ,MY LONGTIME ENEMYS WHO ARE JEALOUS OF ME
THE MOST OTHER GOLDMEMBER ARE VERY NICE GUYS ,PLEASE DONT GORGET THIS
" I'm NOT A PRO MODEL , but only from private fun on cam as NORMAL CAM MODEL "
time to say you some truth about the fuck whats going on here on the cam section,
(but you and your staff.. you all know this there you will indeed paid for it)
When i am not a PRO MODEL ,I must not lick the GOLDMEMBER the ass in the cam section and the ENEMYS from me,not the eggs ,neither
I'm lady enough to decide what I'm doing
and if goldmember are in my cam room
I do not have these people lick the ass
.... to be with these people good ,and to look good for the GOLDMEMBER
(i am not a token whore from the GOLDMEMBER and XHAMSTER)
I have also said that ,this bored goldmember busybodies... after many people thought of these gold members..........
I have to do what the want from me on cam
"The pro-cam models are maybe f***ed these people to talk to the mouth and kiss this people the ass ,
so that it rains tokens"
Thanks god I must not
and when this goldmember and enemies malevolent people who are jealous think to report me for this to terminate my cam
........let it rockin..........
I have a free will and decide for myself ,as a normal cam user
what I let see the user on cam of me and what does not
and when this goldmember and enemys think to report me for this to terminate my cam
i say to you "I GIVE a FUCK about this "
LMFAO
I am to long here on the site , and i need not the goldmember money and i need not to be popular..
I have my friends here and thats enough.
AND I am on cam for my Friends and for FUN
and for people who can not afford the token
xhamster just porn,no Bullshit
LMFAO
Long live the free will
love greetings from sabine
note :
I think the Pro-models might think the same way as I
But what endures many a this Pro cam model everything to earn money
and that should not be, where is the respect, where is the security ???
I think these women, couples, etc whether mormal or Pro cam models have more
respect from the gold members and the staff of xhamster.com ....deserves
UPDATE FROM MONDAY 4.2,2013
about so much stupidity and lie of these people I would not have hoped
So I must be right!
Such conceit knows no bounds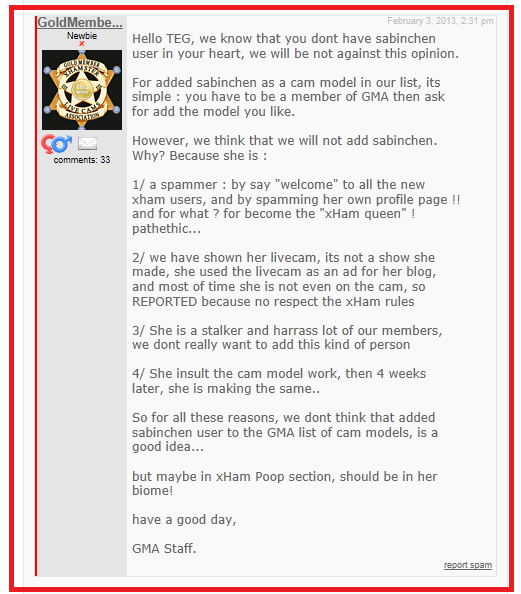 MY ANSWER TO THIS SPECIAL COMMENT from the Profil OWNER OF GMA.lol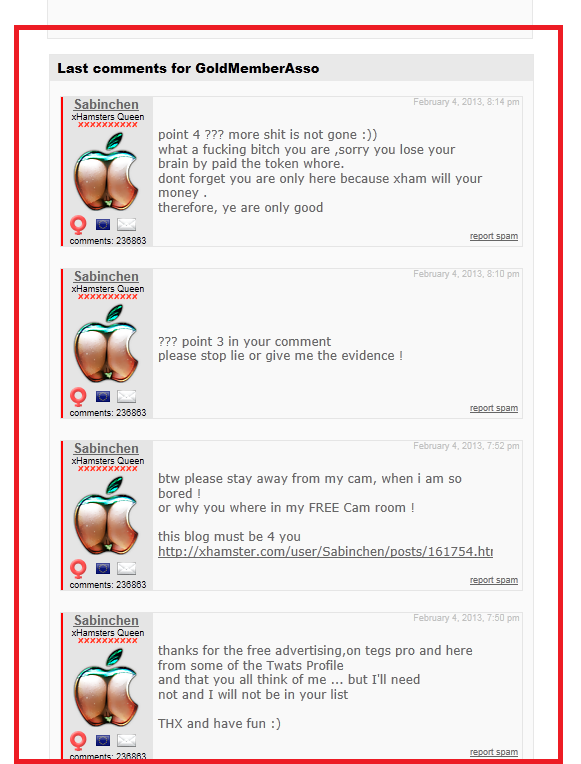 My sugestions
http://suggestions.xhamster.com/users/7859251-xhamster-queen-sabinchen
copy this link in your Browser and support me please 4 a better xham