I had her dress in a tight, sheer top and a very short mini-skirt but didn't tell her where we were going...as we were driving towards town, we pulled off the main road into a secluded area, where I had her get out and lean across the hood of the car.
Seeing that she'd worn her tightest, tinyest white g-string (my favorite~without me telling her to), and she needed to be punished, so I roughly pulled the panties aside and slammed my cock all the way up her ass with no lube. I told her that she's going to remember the next few minutes every time you sit down for the rest of the night...then I just brutally pounded her tight little ass until I blew a goodly sized load up inside her. She start to play with herself, but I wouldn't let her-none of that unless and until I said so. When we got back in the car, before we started up and drove off, I explained the rules for the night...she was going to tease anyone I told her to, but can only suck them or fuck them if I allowed it.
"Oh, and one more thing", I told her-"put these in your pussy now." and handed her two smooth silver balls, "These are not allowed out of your cunt until I say so".
As soon as she got them put in, I start the car and begin driving-and she started jibber-jabbering about how cold and smooth the balls felt in her pussy. Then I casually reached into my pocket and clicked the remote control device onto it's first setting. I made sure to do it as we were stopped at a light, so I could see that far-off look cross her face when those little knobs start dancing just a little bit.
We went to a bar she'd never been to-in fact, I hadn't been there in a while-not since I started making good money and frequenting more genteel establishments, but the bartender, doorman and the guitar player tuning up on stage are all old friends and were smiling as we exchanged greetings...
After getting each of us a drink, I took her over to a round booth and table in the back corner. "Those guys all seem to know you" she said.
"Yeah", I replied, "remember Roger, the bouncer that left right after we both started working at the club?"
"Oh yeah", she said, "he asked me out just before he left town...sent his wife and k**s off to a new city three weeks early so he could cat around."
"So did you go out with him?" I asked, knowing what Roger had told me before he left...
"Yeah, but it was possibly the worst date I'd ever been on...we didn't stay anywhere more than an hour, and all the places we went were either scary or sad. He didn't even take off his wedding ring, and he was trying to feel me up before we even went to dinner, so I pretty much turned ice queen on him", she said.
"I know". I said, "he told me the next day. He kept going from place to place cause he was coked out of his mind... after he took you home, he went back to one of those bars and hooked up with his wife's former best friend. He told me all about it the next night, when he showed up at my door at 2am with that little Oriental stripper that worked at the club for a few weeks...got a quicky in my spare bedroom from her, then left most of the coke and the girl there...I made her take a long bath before I took my turn."
"Actually, I'm surprised Roger didn't bring you here...that's how I know this place~he liked to drink here because the hookers that walk the street just a couple of blocks from here will pop in here a couple of times a night for a quick belt or two, and he could usually get himself a $20 blowjob in the front seat of his car."
"After that, those hookers probably needed another drink just to wash away the taste of him" she joked. I had to nod in agreement. "So did you ever use the front seat for a blow job here?"
"No, I think I told you once that I learned my lesson about streetwalkers at the young age of 17...my future b*****r-in-law and his three shipmates and I were drinking tequila shots in a cantina in Tijuana, and they gave me one of three choices...go upstairs with the $5 hooker, go next door and get a tattoo, or step outside and let all four off them kick my ass...I chose the hooker, and two days later, it started really hurting to pee...I ended up having to get a giant needle of pennecillin jello shot in my ass, couldn't drink beer for two weeks in the hot part of the summer, and was the butt of their jokes for about 6 months. When I came here with Roger, I'd just talk to the bartender and the band guys about bars and music."
The band was about to start playing, so I decided to tell her the rest of the plan for the evening. "Tonight, you can dance with any guy in the place...as often as you want and however you want. They can feel you up while dancing, but no hands inside your panties-either you stop them at that point or we'll go home. The balls will be in your pussy the whole time, and I'll be sitting here with the remote control." At that point, I reached into my pocket and flicked the speed switch up to level 2-she'd gotten used to level one to the point she wasn't even noticing it. She was surprised and shocked enough to have to grab the table edge for a few seconds to keep herself steady.
"What are these things? she asked.
"They're called vibrating ben-wa balls" I said, "and there's at least two or three higher settings on them before the night is over." She smiled at that. "And two more rules for tonight...when you are not dancing, you will be sitting here next to me in the booth with your skirt hiked up and your legs spread wide, and as I told you on the way here, you cannot touch yourself until I tell you you can."
"Oh god" she groaned, "this is gonna be torture!"
"Now you're gonna know a little of how all of us feel when you're dancing in front of US!" I told her-"but if it gets too bad, just say so and we'll go out to the car or home."
I finished explaining the rules to her, then went up to the bar and ordered us a couple more drinks...and as I was paying for them, the bartender said "Haven't seen you for a while" and nodding at her, asked "She;s not gonna be trouble, is she? The cops have been giving us crap about hookers lately...as if I can tell a hooker from some of the crazy tourist women who come in here from the hotel next door."
"Well, she won't be too much trouble" I said "she's my girlfriend, not a hooker...I just wanted to shake her world up a little bit, and what better place to shake a woman up than here?" He gave that a laugh, and I took the drinks back to the table.
About that time, the band started playing, and people started to trickle in two and three at a time-mostly guys, and it wasn't 3 or 4 songs before somebody screwed up the nerve to lean across the table and ask her to dance...she looked at me, I nodded yes, and she got up and danced with him, swinging that beautiful ass of hers around on those long slender legs and occasionally grinding up against the guy a little.
I reached into my pocket and flicked the controller to level three as the band was finishing up the song, and her knees buckled just enough that she started to fall, right into the guy's arms. He held her up, she thanked him, then came back to the table. "Oh my god!" she whispered into my ear between gulps of her drink "I almost lost it there!" Then she asked "Is it OK if I give them a kiss? He deserved a reward for catching me".
"You better be ready-I'm just getting started with it" I told her, "and you can kiss them on the cheek all you want, but not on the lips...I don't want to taste their beer when I kiss you later." I told her to check out the guy she had been dancing with, who had gone back to his table and was telling his friends all about it, and sure enough, when the next song started, one of the friends came over and asked her to dance.
That pattern pretty much continued for the bands first set, as the room slowly filled up...by the last song of the set, five guys had danced with her, all getting a little bump and grind as the band rocked along. The last song was the only slow one the band did in the first set, and the first guy was up and across the room pretty quickly when he realized it, asking for another dance. As they went to the dance floor, I got our drinks refilled from the bar.
"What are you up to?" the bartender asked me.
So I told him that my girlfriend worked as a topless dancer here in town, and tonight it was her turn to get teased instead of doing the teasing...and assured him that it wouldn't go any further than an occasional grope. Which, when we looked towards the dance floor, was just what the guy was trying to do, as he awkwardly tried to slide his hand down her back and grab a handful of her ass cheek.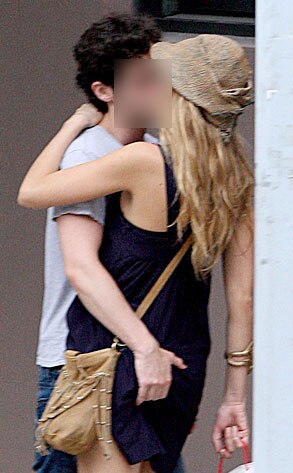 I bumped the speed control in my pocket to level 4 for just a second right as he grabbed her, and from the way his eyes popped open, I'm pretty sure she had started moaning into his ear. At the end of the song, she kissed him on the cheek, then rejoined me at the table. As she slide into the booth, somewhat out of breath, I learned over and kissed her, then reached down and pulled her skirt up. Her panties were already soaked through with her juices!
"By the time we're finished tonight, your shoes will have puddles of your cum in them" I told her with a smile.
It continued on this way for another set by the band; she even danced a dance with an old guy in a wheelchair, and the old guy, having no fear, not only copped a feel but got her to sit on his lap for a few seconds and grind! That was when I turned the speed control up to level 4 and left it there-when she finally was able to stand up, she'd left a noticeable wet spot on his pants, which, due to his lack of feeling that low on his body, he didn't notice for a while...the bartender told me later that at first, he'd thought he'd accidentally spilled some of a drink on himself, but then got a big smile when he got a whiff of what it really was.
While the second set was playing, a group of guys came in that we instantly recognized...they were construction workers who had been working near our club, and it took them very little time to start asking her to dance...they were very aggressive, and she actually walked away from one of them in the middle of a song when he kept trying to work his fingers inside her panties (feeling how wet they were must have driven him crazy!).
During the band's break, the guitar player came over to our table with a couple of drinks for us, saying they were from the band, who were enjoying the view. About that time, she leaned over to me and said "I really have to pee!", so I walked with her back to where the restrooms were. Having seen guys get blow jobs and even quickies in the hallway by the bathrooms, I decided to wait for her there, and less than 30 seconds later, who comes around the corner saying thery had to pee but a couple of the construction workers, including Mr. Hands...he didn't even fake having to piss, but walked up to me and asked me how much she would cost for all of them to gangbang her. I smiled and told him I was her boyfriend, not her pimp, and I was the only one she was gonna fuck that night. A few minutes later, when we got back to our table, he and another guy in his crew were talking to a lone woman at the end of the bar, and a few short minutes later, all four workers and the woman left, but when we left an hour or so later, their van was still in the parking lot...it was moving, but not in gear, so to speak. The guys told me later that they each gave her $100, and almost went to jail when the cops knocked on the van window long after the bar had closed and everyone else had gone home.
By the band's third and final set, we were both pretty well hammered on the drinks...I had completely forgotten about the remote in my pocket for a while, but during a slow song I remembered it...she was dancing with a touristy-looking middle-aged guy, who was pretty much just dancing normally, not even trying to feel her up. So of course, I flicked the controller to the top level 5 for the first time.
Luckily, he caught her-her eyes had rolled back in her sockets so only the whites were showing, and her whole body was shaking like she was in a snowstorm without a coat. He managed to get her back to the table, and by then she could see and talk (barely)...she said "I guess I had too much to drink", smiled,and leaned up and kissed the guy on the cheek, and I swear he started blushing. As he walked away, she leaned over and said "That's it...let's go home. I can't take anymore and you were right...I can't keep my shoes on because they're so slippery inside."
Realizing I was too d***k to drive, I had the bartender call a cab for us. I barely had time to give our address to the driver before she started tongue kissing me in the back seat and grabbing for my zipper, but I stopped her. Pulling her close, I had her climb on top of me so I could see the driver;s face in the rearview mirror, and he could see her from her knees to the back of her head. After a long kiss that ended as we pulled onto the freeway, I whispered to her "Now you can touch yourself. Pull your panties down and let the driver see you masturbate." I helped her lift her ass high in the air, and within seconds she'd rammed two then three fingers deep into her pussy...the cab driver almost lost control of the car-I caught his eyes for just a second and smiled, and he just nodded yes back.
She kept getting more and more worked up, kissing me, biting me, and moaning louder and louder as she came more and more (she still had the vibrating balls in there, too). As we got closer to our off-ramp, I reached up and pushed her bra off her tits and started nibbling on her nipples and squeezing them. She had small tits, and I knew from experience that she could come just from having them played with. After a few seconds, she came with a full-bore scream, and sprayed pussy juices all the way to the front windshield. The cab driver, hypnotized, drove right past our exit, but quickly realized he'd done so and shut off the meter for the rest of the trip home. She'd collapsed in a lump on me as soon as she came, so I shut off the toys in her pussy, then when we got to the house, I told the cab driver that I'd pay him once I got her in the house...when I came out after putting her on the couch, he told me "That's normally a $20 fare, but give me $10 and we'll call it even."
I went back in, and she was just starting to come to her senses...I knelt down and rubbed my face across her wet panties, then pulled them aside and started licking up all her juices from her pussy, but after a few seconds, she stopped me. "It's my turn now...let me see you get yuorself off" she said. "Jerk off for me and by the time your done, I'll be ready to fuck again."
Sounded fair to me, so I pulled my cock out of my pants and started yanking...truthfully, I was so horny by that point that I knew I wasn't gonna last to long anyway...but I hadn't gone two minutes before she had reached down and started fingering herself again. We sat there, me on the coffee table facing her about four feet away, and just as she could tell I was gonna come, she slipped her fingers out of her pussy and shoved one up her ass, knowing that that was my favorite body part of hers.
I blew all at once then, my wad flying across the space between us and landing on her face and tits. I'd never come that much at once, and have yet to match it...she had strings of come in her hair, dripping from one eyelid, on her nose, mouth and chin, and immediately started rubbing a big splatter into her tits. I leaned a little closer as one last burst popped out and landed on her pussy
A few minutes later we hit the shower and cleaned up (and sobered up a little)...she had pushed the ben-wa balls so far up inside her that I damn near fisted her getting them out. We didn't stop fucking and sucking until long after the morning sun had risen, and a few years later, when our life paths went in different directions, the only thing of mine that she wanted to keep (after 3 1/2 years living together) were those damn balls! Me? I got the panties from that night, which never got washed...I can still smell her sweet pussy on them.
One more note-this story took place nearly 20 years ago. Six years ago, the cabdriver in this story and I ended up sharing an apartment for a while...while we were roommates, I heard him tell the story of that night at least three times-and he still doesn't realize that the guy that was with her in the back seat of his cab that night was me.