Me and My Step Daddy Jack: Part 3
We got out of the driveway and drove until we reached a really shady place.. It looked like one of the sex worker places.. We got out of his car and walked into a toy shop..
"Hey Lanny, Needed some toys for this whore here" Jack told Lanny, Who looked like the store manager..
"Hey there Jack, Long time.. Sure.. What all?" "Beads, Cunt and Butt plug, a panty vibrator,whip,a puffer and a dildo"
I was freaked out by the list, WOW.. He was going to use me bad, Like really BAD that was the only thought in my head. Jack took the stuff paid and we walked into a clothes store.. It was like one of those role play costume store which had all type of sex,slutty,whore.ish clothes and costume..
"Hey there Linda, Show me some stuff for my babe" "Jack! Nice to see you.. Sure thing, Come right in"
We followed Linda to the back of the store.. "So a college student are you?" "Nah, A senior.. College next year" Jack told her "So i want some clothes for her to wear to school, Some whore party clothes and some costumes for my roleplay fetish.." Linda removed some fish-net stockings, Short denim skirts, Low cut tees and some tight shirts for my school wear.. For the Party clothing (there would be many parties, Whore.ish and Jack's company parties) she got a Micro mini dress which barely covered my ass cheeks, A fish-net short dress, A dress cut at the breasts, cunt and ass, A dress that covers only the nipples and 2 beautiful long tank gowns for his company parties.. For the costumes bit he got me a house keeper's outfit open at the boobs, cunt and ass, A school slut's uniform and a few more..
He paid and we walked out with MANY clothes for me..
We then walked into the lingerie store.. We were suppose to buy my house clothings.. Which could be lingerie maximum as there was practically a no clothes rule..
He bought me many cupless bras, Half cupped bras.. Crouchless thongs, Lacy thongs, Cupless night dresses, Panty hoses. God i was going to be those house slave/slut/fucktoy/god knows what from tomorrow onwards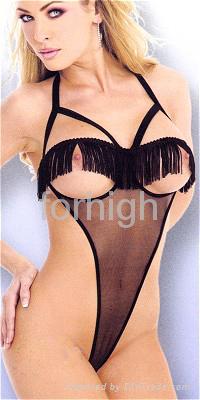 Then for my swim wear we entered another shop.. Man was he on a shopping spree for me.. He bought me a white tight tiny thong skimpy transparent bikini, And A blue bikini which only had a sting to cover my nipples and a stings passing though my pussy and into my ass and which gets tied around the waist..
So i figured the blue one was for me to wear with him and the white for school..
After we shopped all of this it was practically night and we headed out for dinner.. We left the shopped items inside the car and he took me to a pub on the same road.
As we entered all i could see was dark lights, naked girls and men groping them all over. As we were walking in.. men were trying to get their hands inside my shorts and some even squashed my boobs. Jack was just delighted that people wanted me.
We sat in a booth by the side and he ordered drinks and food for the both of us.. Jack then slid his hand inside my shorts and started to fondle with my clit and was fingering me like a crazy man. Out food and drinks came we are and then Jack asked me to remove my shirt for him and he wanted to suck on me. I hesitated but gave in and took of my shirt. Jack grabbed my breasts and began to suck and squeeze them "How I wish milk came out of these wonderful breasts" he told me and kept sucking and i kept moaning while he sucked and fingered me crazy.
Then someone stood on the bar and yelled 'Whichever couple comes up here and fondel's which each other for our joy gets 10free shots'
Jack's eyes sparkled as he heard the announcement and he garbed me and took me towards the mini stage
"Jack c'mon.. Not here dude.. Please." "NO.. Here... NOW."
And we got up on the stage.. and he removed my shorts.. I was anyways shirtless so i was basically standing naked in a pub for a prevy crowed just for 10 free shots. NICE.
He began to finger my cunt hard with 3 fingers deep in, groping my breasts and chewing on my nipples
"Jack..." i tried to push him a little "Pleaseeee... ahhhhhhh"
People were hooting and staring at us and passing comments like 'let me do her dude'
After about 20mins he stopped and we got of the stage and went back to out booth where a waiter got us out 10 shots.. He kept the tray on our table and squeezed my right boob and walked off.. I was shocked and Jack just laughed
He passed me 8shots and he drank 2.. "I'm driving" He winked and I had my 8 shots.. I was high by the end of it and we left for home..
He didnt let me put on my clothes as we walked out of the pub.. People were hooting... We got into the car and drove home.. We then got home and Jack got all the shopped stuff up to my room.. "Wow, You have no capacity babe" he giggled and then he lay out all the toys, the clothes and everything on my table.
"I am going to fuck you at last" he winked & He then lead me into his room and laid me on his huge bed
Part 4 up next. ;)